Welcome to our website "Science ka Mahakumbh". The IMPORTANT IDIOMS AND PHRASES PART-2 are as follows which will help you in various exams (like SSC, PET, CDS , State Exams and Other Exams)
In this module, you'll learn 30 IDIOMS AND PHRASES in 3 three sets, each of a size 10.
BEWARE: You may face a quiz ahead, so read and understand the question thoroughly.
Let's start the journey.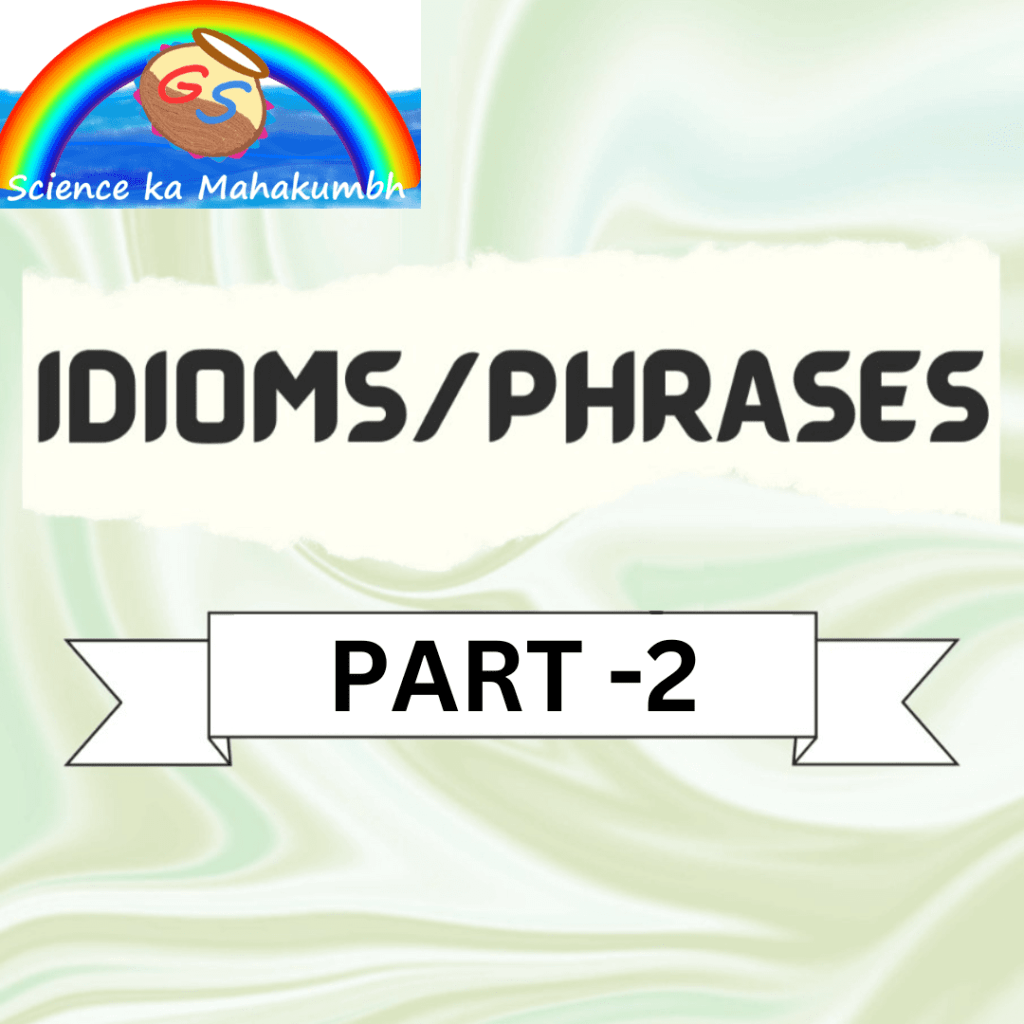 IDIOMS AND PHRASES 31-40
Q. Heads will roll- Transfers will take place
Q. Make no bones about – Do not have any hesitation in anything.
Q. To starve off – Postpone
Q. Rest on laurels – To be complacent
Q. Pay through nose- Pay an extremely high price.
Q. Draw on face – Use imagination
Q. Turn an honest living- make a legitimate living
Q. Cheek by jowl- very near
Q. Dead meat – In serious trouble.
Q. The dead of night – The quietest, darkest part of the night.
IDIOMS AND PHRASES 41-50
Q. Turn up one's nose at – despises
Q. Turn one's head – To feel proud in a way that other people find it annoying
Q. High and dry – To leave someone helpless.
Q. Take for granted – To accept Readily
Q. Mince matters – To confuse issues
Q. Carrying Favour with- Ingratiating
Q. Bone to pick- Cause of quarrel, Bone of contention
Q. Struck a chill to the heart – Arouse fear, to make somebody afraid
Q. End in a fiasco – Total / Uttar failure.
Q. fall back – To turn or move back
IDIOMS AND PHRASES 51-60
Q. Laying off- Dismissal from jobs
Q. Lead someone by the nose – To dominate someone
Q. Knows how many beans make five – Well informed and intelligent
Q. Made my flesh creep – Horrified me
Q. Made light of – Treated it lightly
Q. Mad as a hatter- Eccentric
Q. Lock, stock and barrel- Completely
Q. Like pulling teeth- Extremely difficult.
Q. Not to look a gift horse in the mouth- Not to find fault with the gifts received
Q. Not to mince matters- To speak out politely
WHATSAPP GROUP LINK- CLICK HERE