BIOLOGY NOTES FOR NEET EXAMS PART-1
Welcome all of you to our website. Every Sunday a set of questions of BIOLOGY NOTES FOR NEET EXAMS will be updated and here you will get updated content. The questions posted here will help you in your upcoming NEET EXAMS :-
आप सभी का हमारी वेबसाइट पर स्वागत है। हर रविवार को NEET परीक्षा के लिए जीव विज्ञान नोट्स के प्रश्नों का एक सेट अपडेट किया जाएगा और यहां आपको अपडेटेड कंटेंट मिलेगा। यहां पोस्ट किए गए प्रश्न आपकी आगामी नीट परीक्षा में आपकी मदद करेंगे:-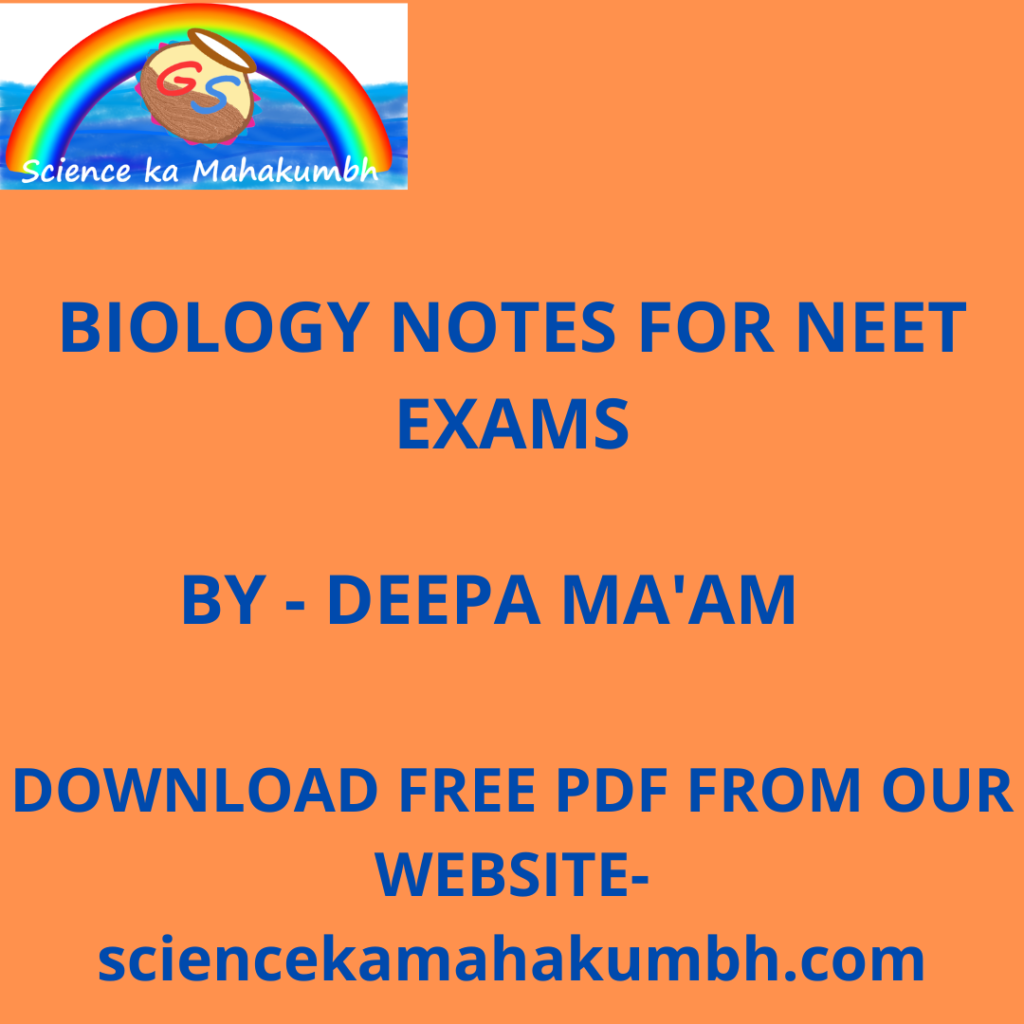 Q.1 Ethylene is used for
(a) Retarding ripening of tomatoes
(b) Slowing down ripening of apples
(c) Hastening of ripening of fruits
(d) Both (b) and (c)
Ans. (c)
Q.2 Coconut water contains
(a) Cytokinin
(b) Auxin
(c) ABA
(d) Gibberellin
Ans. (a)
Q.3 Plasticity in plant growth means that
(a) Plant roots are extensible
(b) Stems can extend
(c) Plant development is dependent on the environment
(d) None of the above
Ans. (c)
Q.4 ABA acts as antagonistic to
(a) Ethylene
(b) Cytokinin
(c) IAA
(d) Gibberellic acid
Ans. (d)
Q.5 To increase sugar production in sugarcanes, they are sprayed with
(a) Gibberellin
(b) Cytokinin
(c) IAA
(d) Ethylene
Ans. (a)
Q.6 The photoperiod in plants is perceived at
(a) Leaves
(b) Flower
(c) Floral buds
(d) Meristem
Ans. (a)
Q.7 Opening and closing of flowers represent a kind of
(a) Nastic movements
(b) Nutation movements
(c) Autonomic movements.
(d) Tropic movements
Ans. (a)
Q.8 Phototropic and geotropic movements are linked to
(a) Gibberellins
(b) Enzymes
(c) Auxin
(d) Cytokinins
Ans.(c)
Q.9 Sprouting of potato can be prevented in storage by
(a) Maleic hydrazide
(b) Gibberellins
(c) Indole acetic acid
(d) Cytokinins.
Ans. (a)
Q. 10 Phytochrome is involved in
(a) Phototropism
(b) Photorespiration
(c) Photoperiodism
(d) Geotropism.
Ans. (c)
Q. 11 Photo morphogenetic pigment in plants is
(a) Chlorophyll
(b) Phytochrome system
(c) Carotene
(d) Chalcone pigment.
Ans. (b)
Q. 12 A long day plant is
(a) Soyabean
(b) Wheat/Spinach
(c) Tobacco
(d) Xanthium.
Ans. (b)
Q.13 Ethylene is
(a) A gaseous metabolite
(b) A gaseous enzyme
(c) A solid hormone
(d) A gaseous hormone .
Ans. (d)
Q.14 Bioassay of IAA is
(a) Callus test
(b) Avena curvature test
(c) a-amylase test.
(d) Leaf disc test
Ans. (b)
Q.15 IAA precursor is
(a) Tyrosine
(b) Leucine
(c) Tryptophan
(d) Phenylalanine
Ans. (c)
Q. 16 What is a stress hormone?
(a) Benzyl aminopurine
(b) Ethylene
(c) Abscisic acid
(d) Dichlorophenoxy acetic acid
Ans. (c)
Q. 17 Cytokinins are mostly
(a) Acidic
(b) Phenolic
(c) Glucosides
(d) Aminopurines
Ans. (d)
Q.18 2, 4-D is
(a) Insecticide
(b) Weedicide
(c) Rodenticide
(d) Nematicide
Ans. (b)
Q. 19 The ultimate electron acceptor of respiration in an aerobic organism is:
(a) Glucose
(b) Hydrogen
(c) Oxygen
(d) Cytochrome
Ans. (c)
Q.20 Which of the following exhibits the highest rate of respiration?
(a) Root tip
(b) Leaf bud
(c) Growing shoot apex
(d) Germinating seed
Ans. (d)
Q.21 R. Q. of germinating castor seed is:
(a) 0
(b) < 1 (c) > 1
(d) 1
Ans. (b)
Q.22 Last (ultimate) electron receptor in aerobic respiration is:
(a) O2
(b) CO2
(c) H2
(d) NADH
Ans. (a)
Q.23 Maximum number of ATP is obtained from:
(a) Glucose
(b) Malic acid
(c) Palmitic acid
(d) Amino acid
Ans. (c)
Q.24 Upon oxidation of the one molecule of pyruvate by mitochondrial respiration, the molecules of ATP generated are:
(a) 15
(b) 8
(c) 30
(d) 38
Ans. (a)
Q.25 R.Q. value of 4 may be expected for the complete oxidation of which one of the following?
(a) Glucose
(b) Oxalic acid
(c) Malic acid
(d) Tartaric acid
Ans. (b)
Q.26 The respiratory quotient during cellular respiration would depend upon:
(a) Amount of O2 utilized
(b) Amount of CO2 released
(c) The nature of enzyme involved
(d) Both (a) and (b)
Ans. (d)
Q.27 How many net ATP molecules are obtained from fermentation of one molecule of glucose?
(a) 3
(b) 2
(c) 5
(d) 4
Ans. (b)
Q.28 During one turn of Krebs' cycle, number of CO2 molecules released:
(a) 4
(b) 3
(c) 1
(d) 2
Ans. (d)
Q.29 During aerobic respiration, maximum NADH2 is formed during:
(a) ETS
(b) Glycolysis
(c) Krebs' cycle
(d) Fermentation
Ans. (c)
Q. 30 In Kreb's cycle, OAA accepts acetyl CoA to form:
(a) Succinyl CoA
(b) Citric acid
(c) Fumaric acid
(d) Oxalosuccinic acid
Ans. (b)
SOME IMPORTANT NOTES FOR BIOLOGY
TELEGRAM GROUP LINK – https://t.me/sciencekamahakumbh
FOR PDF = CLICK HERE CLICK HERE