Welcome to our website "Science ka Mahakumbh". The IMPORTANT IDIOMS AND PHRASES PART-1 are as follows which will help you in various exams (like SSC, PET, CDS , State Exams and Other Exams)
In this module, you'll learn 30 IDIOMS AND PHRASES in 3 three sets, each of a size 10.
BEWARE: You may face a quiz ahead, so read and understand the question thoroughly.
Let's start the journey.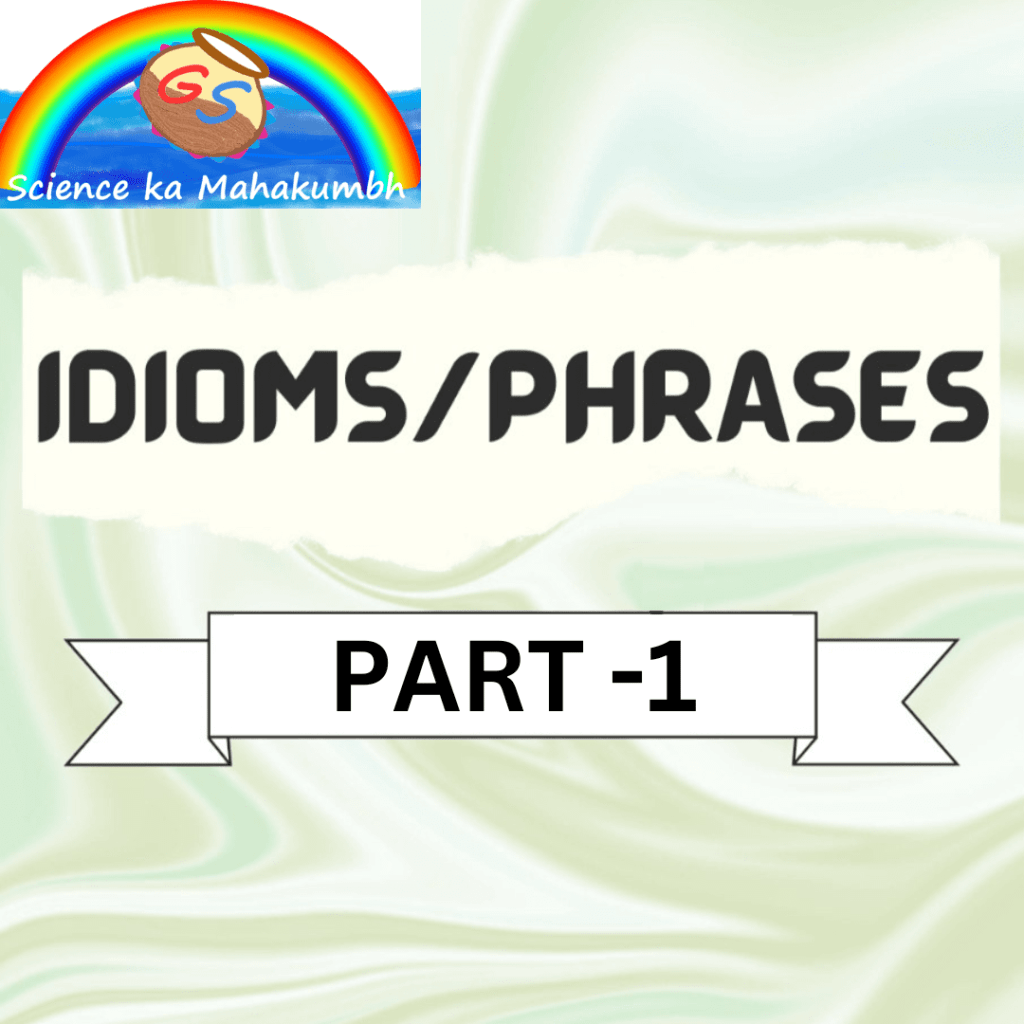 IDIOMS AND PHRASES 1-10
Q. Dead as a doornail – Completely dead
Q. Dead to the world – fast asleep
Q. Off and On – Occasionally
Q. Hard and fast – strict
Q. Took to heals – Run away in fear
Q. To keep up – To keep in touch
Q. Achilles heel – small but fatal weakness
Q. An armchair job – good income job with high comfort.
Q. An axe to grind – something done for selfish reasons.
Q. An old flame – a person with whom one had a romantic relationship in the past
IDIOMS AND PHRASES 11-20
Q. All Moonshine – far from reality
Q. Apple of one's eye – Very dear to someone
Q. Assume hairs – pretend superiority
Q. A walk of life – a person's occupation or position within society
Q. All hands on Deck – everyone available to help with a problem.
Q. Down and out – Without money
Q. Evening of life – old age
Q. Egged you on – Urged
Q. Dropping names – Hinting at high connections
Q. Feel blue – Gloomy
IDIOMS AND PHRASES 21-30
Q. Make ducks and drakes of – Squander
Q. Put up with – Endure
Q. Helter-Skelter – In disorderly
Q. A shilling – Disinheriting /to expel from fraternal property
Q. fall through – To fail
Q. Set one's face against – oppose strongly
Q. Strom in a teacup – Commotion over a trivial matter.
Q. Putting one's foot down – Asserting one's authority to take a firm stand
Q. The man in the street – An ordinary man.
Q. To catch up with – To compete with.
WHATSAPP GROUP LINK- CLICK HERE