Welcome to our website "Science ka Mahakumbh". The IMPORTANT ONE WORD SUBSTITUTION PART-15 are as follows which will help you in various exams (like SSC, PET, CDS , State Exams and Other Exams)
In this module, you'll learn 30 One Word Substitution's in 3 three sets, each of a size 10.
BEWARE: You may face a quiz ahead, so read and understand the question thoroughly.
Let's start the journey.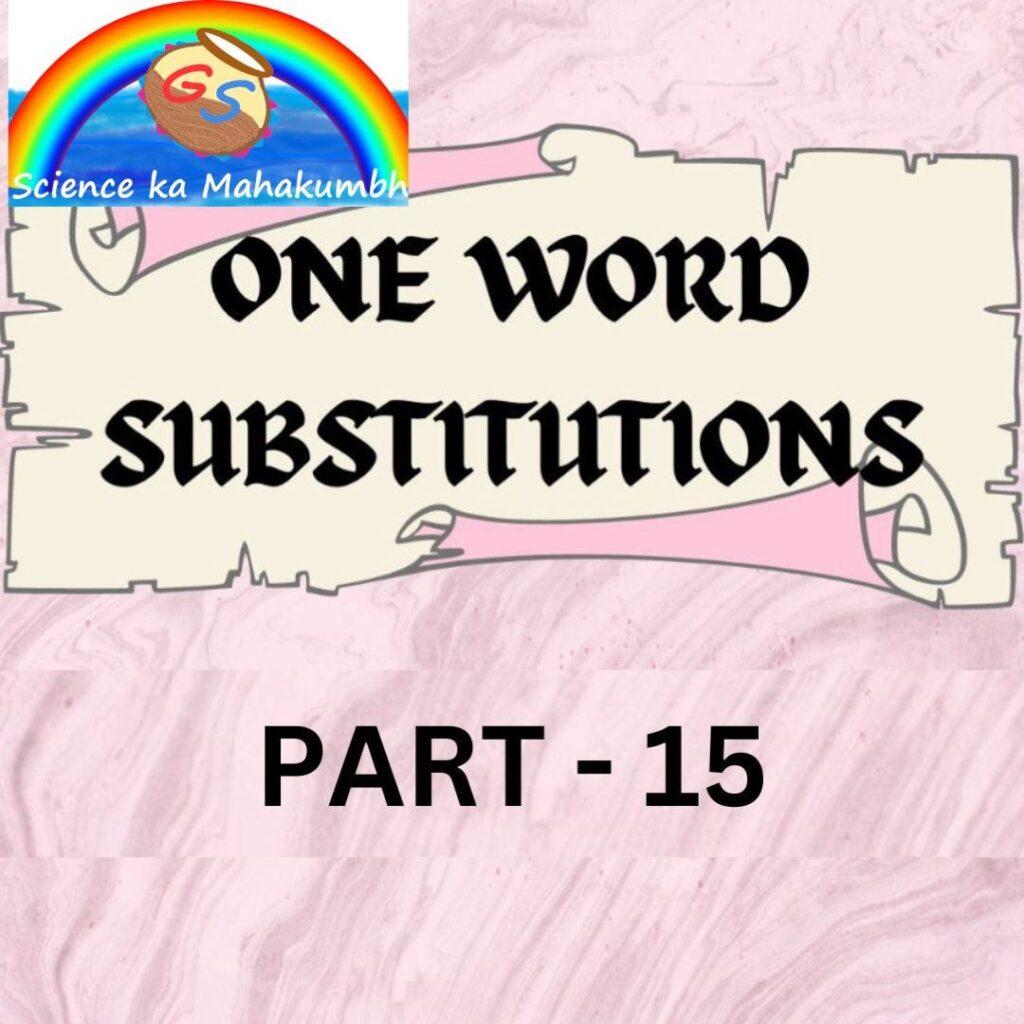 ONE WORD SUBSTITUTION 421-430
Q. To give up the throne – Abdicate
Q. The act of speaking irreverently about sacred things – Blasphemy
Q. Conspicuously and tastelessly indecent – Coarse
Q. Not acting quickly enough – Dilatory
Q. Rules governing socially acceptable behavior – Etiquette
Q. A short introductory essay preceding the text of a book – Foreword
Q. Wanting more money, power, food etc. that you really need – Greedy
Q. The person who loves entertaining guests – Hospitable
Q. Impossible to believe – Incredible
Q. Very dirtily/badly – Lousily
ONE WORD SUBSTITUTION 431-440
Q. A proposal/report on a particular subject for a person, an organization, a committee, etc. – Memorandum
Q. A schoolboy who frequently cuts classes is a – Traunt
Q. A person who is greatly respected because of wisdom – Venerable
Q. Send or bring somebody back to his own country – Repatriate
Q. One who loves of supports bis of her country and is willing to defend it – Patriot
Q. One who knows everything – Omniscient
Q. The conference that takes place once in 3 year – Triennial.
Q. Meaningless language with an exaggerated style intended to impress – Rhetoric
Q. A person extremely desirous of money – Avaricious
Q. A handsome of man – Adonis
ONE WORD SUBSTITUTION 441-450
Q. Submission to all that happens as inevitable – fatalism
Q. Widespread scarcity of food – Famine
Q. One who believes everything he/she hears – Credulous
Q. A person who works for an employer for a fixed period of time in order to learn the particular, skills needed in their job- Apprentice
Q. The place where public, government or historical records are kept – Archives
Q. Theft of another person's writings or ideas and passing them off as one's own – Plagiarism
Q. The study of insects – Entomology
Q. One who intervenes b/w two or more parties to settle difference – Intermediary
Q. Dissection of a dead body to find the cause of death- Autopsy
Q. Capable of being interpretation in two ways – ambiguous
IMPORTANT ONE WORD SUBSTITUTION PART- 16
WHATSAPP GROUP LINK- CLICK HERE