हमारी वेबसाइट "Science ka Mahakumbh" में आपका स्वागत है। यह अर्थशास्त्र के महत्वपूर्ण प्रश्न का भाग – 2 हैं जिसमें 30 महत्वपूर्ण प्रश्न हिंदी के साथ-साथ अंग्रेजी भाषा में भी दिए गए हैं।
Welcome to our website "Science ka Mahakumbh". This is Part – 2 of Important Questions of ECONOMICS in which 30 important questions have been given in Hindi as well as in English language.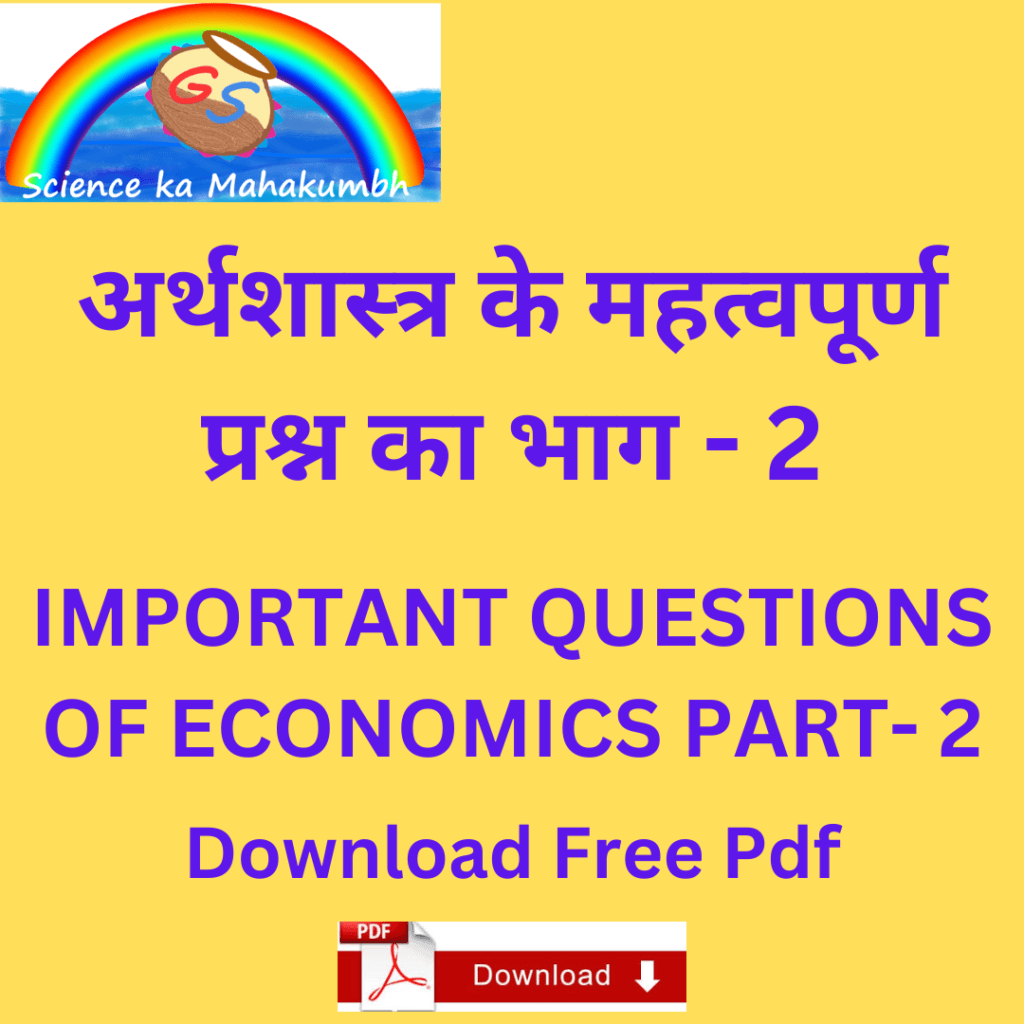 अर्थशास्त्र के महत्वपूर्ण प्रश्न भाग – 2 IMPORTANT QUESTIONS OF ECONOMICS PART – 2
Q. Facility is provided in post office to maximum account holders in India – Savings bank
भारत में अधिकतम खाताधारकों को डाकघर में सुविधा प्रदान की जाती है – बचत बैंक
Q. The ex-officio chairman of the National Development Council is – Prime Minister
राष्ट्रीय विकास परिषद् का पदेन अध्यक्ष होता है – प्रधानमन्त्री
Q. Under which crop is the maximum agricultural land in India – Rice
भारत में सबसे अधिक कृषि भूमि किस फसल के अन्तर्गत है – चावल
Q. Budget deficit means – the difference between total receipts and total expenditure.
बजट घाटा का अर्थ है– कुल प्राप्तियों एवं कुल खर्च में अन्तर
Q. Which sector was given the highest priority in the first five year plan – Agriculture
प्रथम पंचवर्षीय योजना में किस क्षेत्र को सर्वाधिक प्राथमिकता दी गयी– कृषि
Q. Gilt edged market is related to – Gold-Silver / Bullion
गिल्ट एज्ड बाजार सम्बन्धित है – सोना-चाँदी/सर्राफा
Q. Kisan Credit Card scheme was launched in– 1998
किसान क्रेडिट कार्ड योजना शुरू की गई थी– 1998
Q. Where is the headquarters of Food and Agriculture Organization (FAO) located – Rome
खाद्य एवं कृषि संगठन (FAO) का मुख्यालय कहाँ स्थित है – रोम
Q. Currency Note Press is located – Nashik
करेन्सी नोट प्रेस अवस्थित है – नासिक
Q. The first gold refinery has been established in India- Shirpur
भारत में पहली स्वर्ण रिफायनरी स्थापित की गई है– शिरपुर
Q. The country's largest commercial bank is – State Bank of India
देश का सबसे बड़ा वाणिज्यिक बैंक है – भारतीय स्टेट बैंक
Q. B.C.C.I. is the bank – International Banking Organization
बी.सी.सी.आई. (B.C.C.I.) बैंक कौन-सा है – अंतर्राष्ट्रीय बैंकिग संगठन
Q. Sales tax is levied by – State Government
बिक्री कर लगाती है– राज्य सरकार
Q. Inflation in India is measured by – Wholesale Price Index
भारत में मुद्रास्फीति द्वारा मापी जाती है– थोक मूल्य सूचकांक
Q. Indian Institute of Foreign Trade is located in – New Delhi
भारतीय विदेश व्यापार संस्थान स्थित है – नई दिल्ली
Q. When was VAT implemented in India – 1st April, 2005
भारत में वैट (VAT) कब से लागू हुआ था– 1 अप्रैल, 2005
Q. What is the rank of India in the world in the production of grapes per hectare – first
अंगूर की प्रति हेक्टेयर उपज में भारत का विश्व में कौन-सा स्थान है – पहला
Q. Which country is the largest producer and consumer of black tea in the world – India
काली चाय का विश्व में सबसे बड़ा उत्पादक और उपभोक्ता देश है– भारत
Q. Which sector of the economy is called the service sector – Tertiary
सेवा क्षेत्र अर्थव्यवस्था के किस क्षेत्र को कहा जाता है – तृतीयक
Q. Which crop was most affected by the Green Revolution in India – Maize
भारत में हरित क्रान्ति का सर्वाधिक प्रभाव किस फसल पर पड़ा – मक्का
Q. The world's largest leather producing country is – India
विश्व का सबसे बड़ा चमड़ा उत्पादक देश है – भारत
Q. Kharif crops are sown – June-July
खरीफ की फसलों की बुआई की जाती है – जून-जुलाई
Q. Commercial crops are – cotton, sugarcane, oil seeds, tea, jute and tobacco
व्यापारिक या नकदी फसलें हैं – कपास, गन्ना, तिलहन, चाय, जूट तथा तंबाकू
Q. Rabi crops are sown – October, November, December
रबी की फसलों की बुआई की जाती है – अक्टूबर, नवंबर, दिसंबर
Q. The 'Operation Flood' program was started in – 1970
'ऑपरेशन फ्लड' कार्यक्रम शुरू किया गया था – 1970
Q. The most dynamic factor of production is – Capital
उत्पादन का सर्वाधिक गतिशील कारक है– पूँजी
Q. The number of Agro-Ecological Zones in India is – 20
भारत में एग्रो इकोलाॅजिकल जोन्स की संख्या है– 20
Q. The headquarter of Small Industries Development Bank of India (SIDBI) is located – Lucknow
भारतीय लघु उद्योग विकास बैंक (सिडबी) का मुख्यालय स्थित है – लखनऊ
Q. The recommendations of the Kelkar Task Force are related to – Taxes
केलकर टास्क फोर्स की सिफारिशों का सम्बन्ध है – करों से
Q. National Rural Employment Guarantee Scheme launched – February 2, 2006
राष्ट्रीय ग्रामीण रोजगार गारन्टी योजना शुरू की गई – 2 फरवरी, 2006
DOWNLOAD FREE PDF
Moreover, to read Part-3 of IMPORTANT QUESTIONS OF ECONOMICS, keep visiting our website.
Furthermore, you can visit other subject pages for more questions.