Welcome to our website "Science ka Mahakumbh". The IMPORTANT IDIOMS AND PHRASES PART-4 are as follows which will help you in various exams (like SSC, PET, CDS , State Exams and Other Exams)
In this module, you'll learn 30 IDIOMS AND PHRASES in 3 three sets, each of a size 10.
BEWARE: You may face a quiz ahead, so read and understand the question thoroughly.
Let's start the journey.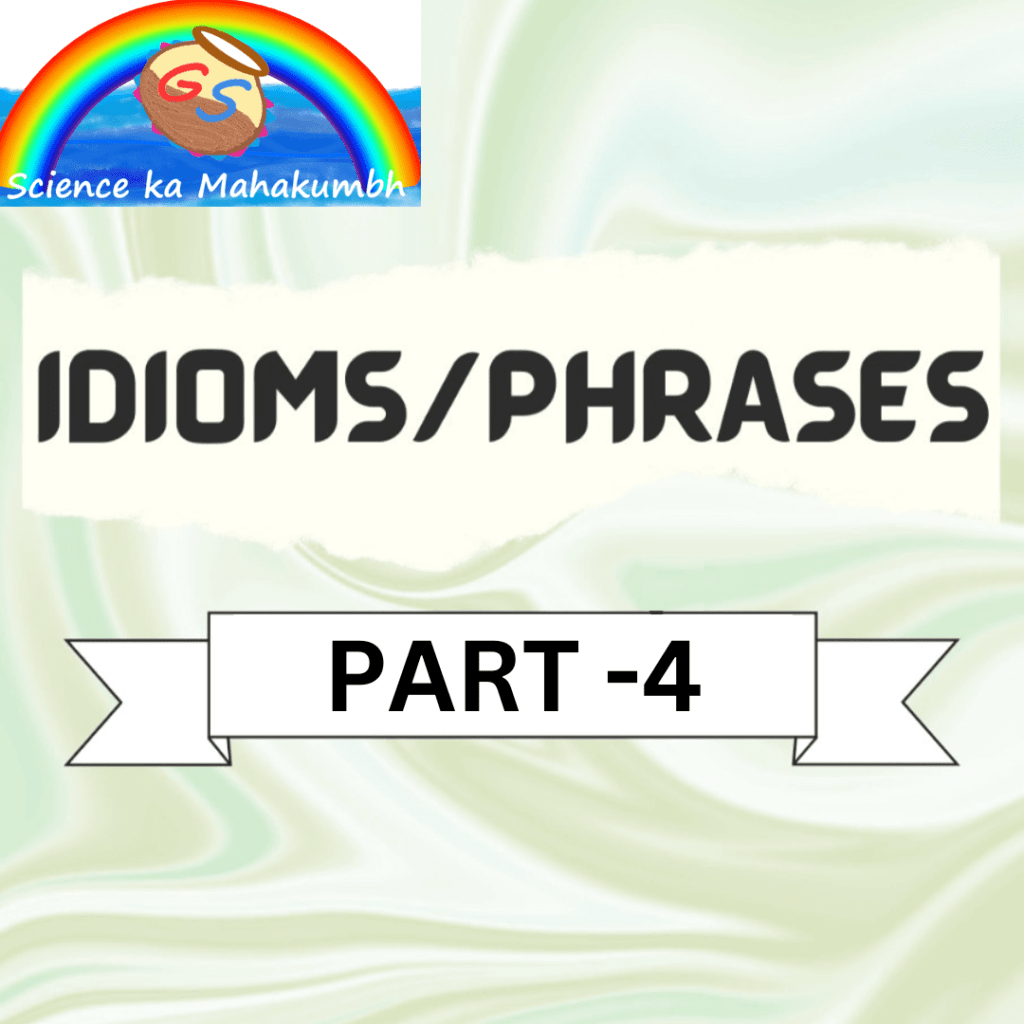 IDIOMS AND PHRASES 91-100
Q. The dead of winter – The coldest part of winter.
Q. Dead on your feet – Extremely tired
Q. Shake in shoes – Tremble with fear
Q. Take with a grain of salt – To listen to something with considerable doubt
Q. Sweeping statement- Thoughtless statement
Q. Enough rope – Enough freedom for action.
Q. Fell foul of – Got into trouble with
Q. Token strike- short strike held as warning.
Q. flogging a dead horse – wasting time in useless effort
Q. Green thumb- To have natural interest
IDIOMS AND PHRASES 101-110
Q. An about turn- complete change of opinion.
Q. Ask for trouble- Act in a way that is likely to incur your problems or difficulties
Q. A turning point- anything that brings about changes
Q. Against the clockwork – very fast to complete something with in a deadline
Q. A sore point with -something which hurts
Q. Be an old hat – be outdated
Q. Be born with a silver spoon in the mouth- Be born in a rich family
Q. Be out of order -A device not working properly or at all.
Q. Be on the air- Broadcast over the radio or on tv.
Q. Black out -Lost consciousness
IDIOMS AND PHRASES 111-120
Q. Draconian law -Extremely severe law
Q. Do or die- To make a final effort
Q. Done for – ruined
Q. Eats like a horse -Eats a lot of food
Q. Dropping like flies- Collapsing in large numbers
Q. Ease somebody's mind -Alleviate someone's anxiety
Q. Fallout – To quarrel
Q. Floor -Puzzled
Q. Fit like a glove -To fit snugly
Q. Finish with something -Be through
WHATSAPP GROUP LINK- CLICK HERE