Welcome to our website "Science ka Mahakumbh". The IMPORTANT SYNONYMS PART-1 are as follows which will help you in various exams (like SSC, PET, CDS , State Exams and Other Exams)
In this module, you'll learn 30 SYNONYMS in 3 three sets, each of a size 10.
BEWARE: You may face a quiz ahead, so read and understand the question thoroughly.
Let's start the journey.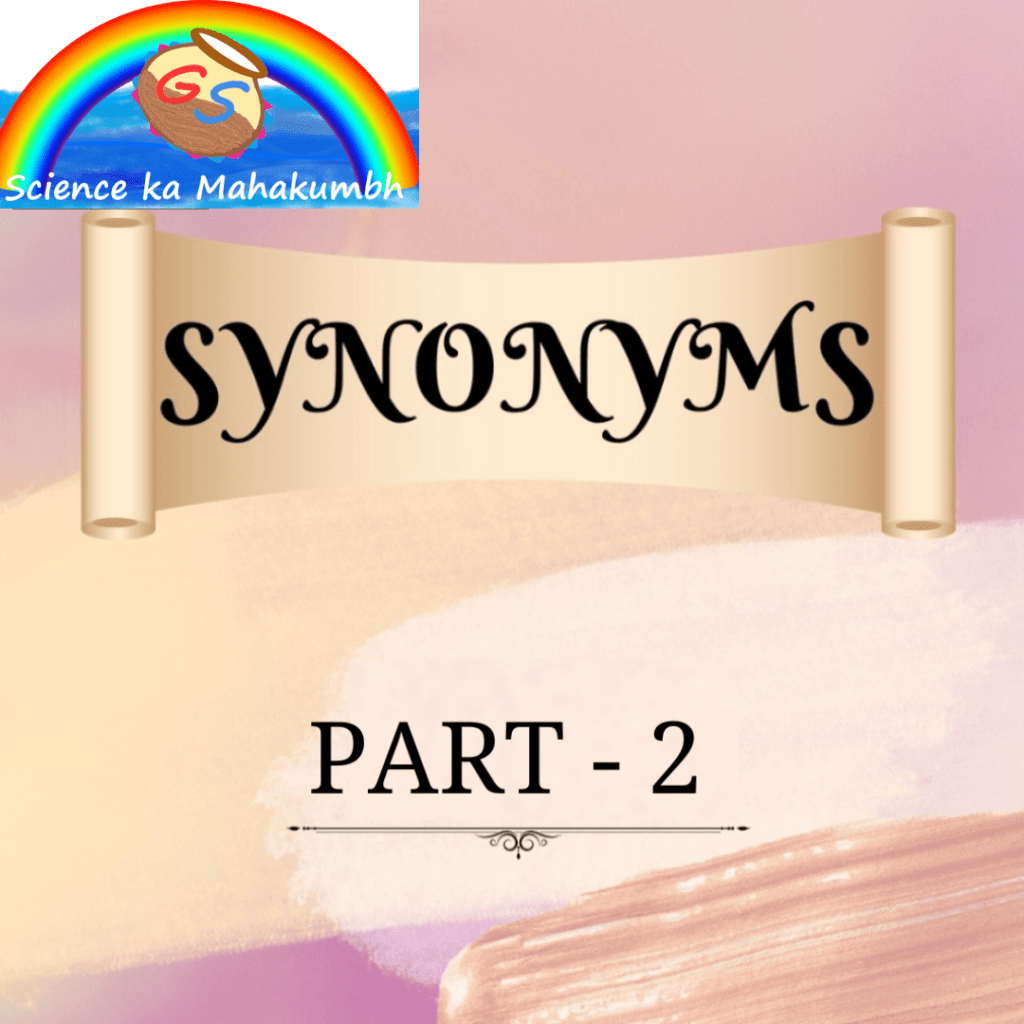 SYNONYMS 31-40
Q. Abettor- Accomplice, Accessory, Accomplice
Q. Abolition -Cancellation, Dissolution, Annulment
Q. Accord- Confer, Compact, Convention
Q. Abysmal- Bottomless, Profound, Endless
Q. Adulterated -Alloyed, Contaminated, Diluted
Q. Agile – Active, Alert, Acute
Q. Advance -Progress, Move, Forward
Q. Affluence -Richness, Wealth, Prosperity
Q. Aggravate-Annoy, Irritate, Anger
Q. Beautiful – Handsome, Alluring, Charming
SYNONYMS 41-50
Q. Obnoxious – Unpleasant, Disgusting, Annoying
Q. Colossal – Extremely large or great, Enormous, Immense
Q. Inception – Origin, Outset, Derivation
Q. Benevolence – kindness, Goodwill, Kindness
Q. Nomadic – Peripatetic, Wandering, Itinerate
Q. Estranged – Separated, Incongruous, Opposed
Q. Garnish – Adorn, Ornament, Gingerbread
Q. Irreverence – Disrespect, Heresy, Mockery
Q. Ravage – Destroy, Demolish, Disrupt
Q. Elude – Escape, Puzzle, Stonewall
SYNONYMS 51-60
Q. Flutter – Flicker, Drift, Hover
Q. Capricious – Whimsical, Unreasonable, Wayward
Q. Convict – Criminal, Prisoner, Loser
Q. Gnome – A small ugly person, Fairy
Q. Indict – Charge, Censure, Incriminate
Q. Lucidity – Clarity, Purity, Transparency
Q. Crude – Unrefined, Savage, Barnyard
Q. Clever – Cunning, Apt, Inventive
Q. Grumble – Complain, Squawk, Moan
WHATSAPP GROUP LINK- CLICK HERE