Welcome to our website "Science ka Mahakumbh". The IMPORTANT ONE WORD SUBSTITUTION PART-6 are as follows which will help you in various exams (like SSC, PET, CDS , State Exams and Other Exams)
In this module, you'll learn 30 One Word Substitution's in 3 three sets, each of a size 10.
BEWARE: You may face a quiz ahead, so read and understand the question thoroughly.
Let's start the journey.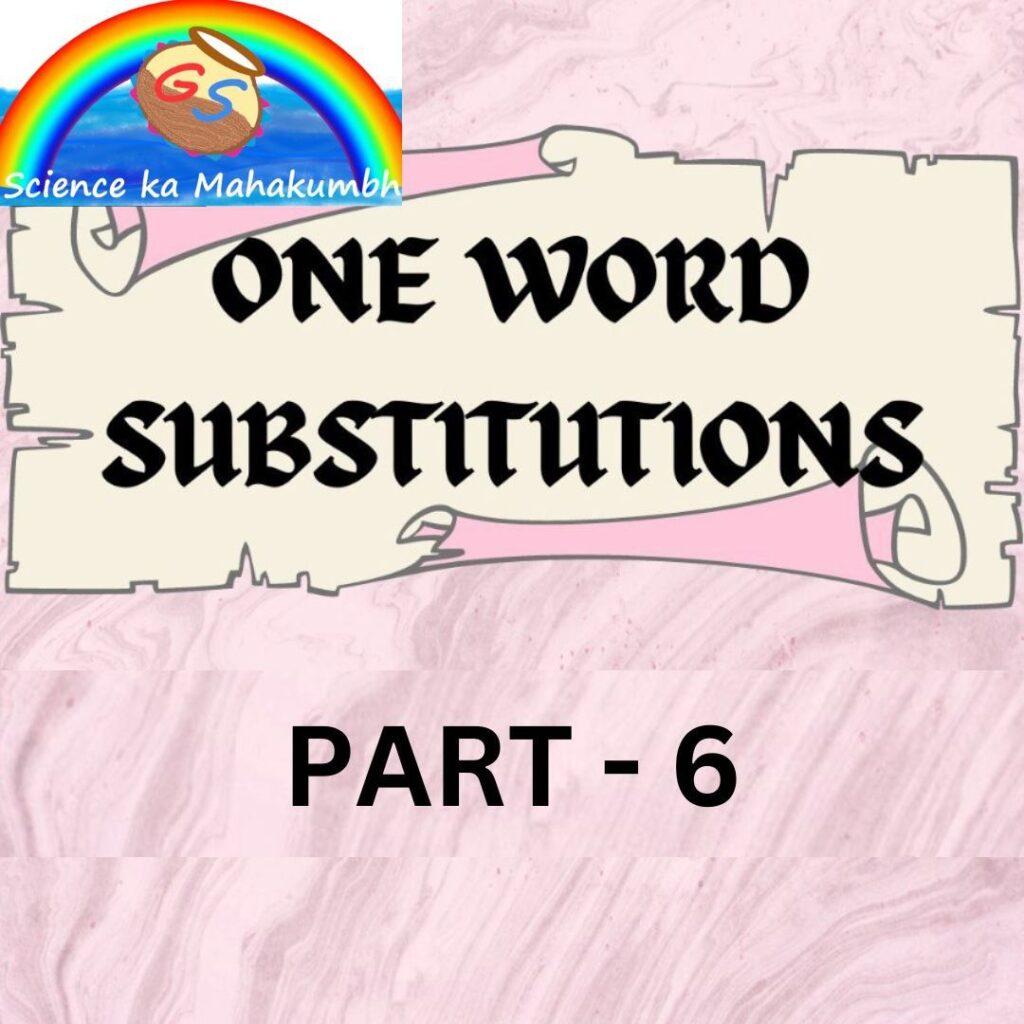 ONE WORD SUBSTITUTION 151-160
Q. A cause of great suffering and distress – Affliction
Q. A person who speaks more than one language – Bilingualist
Q. A small collection of people – Covey
Q. The first public appearance of a performer / sports player – Debut
Q. The scientific study of insects – Entomology
Q. Being careful that every detail is correct – Fastidious
Q. To look at someone in an angry or threatening way – Glower
Q. A craft capable of moving over water or land on a cushion of air created by jet engines – Hovercraft
Q. Too strong to be changed – Invincible
Q. An organization that lends money – Lender
ONE WORD SUBSTITUTION 161-170
Q. A process in which something changes completely into something different – Metamorphosis
Q. The first model at a new device – Prototype
Q. One who stays aways from school without permission – Truant
Q. Violation of something holy and sacred – sacrilege
Q. Feeding on food made of both plant and flesh- Omnivorous.
Q. Quibble (to avoid giving a direct answer to a question in order to hide the truth) – Prevaricate
Q. Doing something acc. to one's own free will – voluntary
Q. Something that cannot be explained – Inexplicable
Q. A person's peculiar habit – Idiosyncrasy
Q. write or carve words on stone or paper- Inscribe
ONE WORD SUBSTITUTION 171-180
Q. Trouble any annoy continually- Harass
Q. To play the part of and function as, some other person – Act
Q. The study as practice of or composing ballets – choreography
Q. A word composed of the first letters of the wards in a phrase – Acronym
Q. one who intervenes b/w two or more parties to settle differences – Intermediary
Q. A no of stars grouped together – constellation
Q. A movement of part of the body to express an idea or feeling – Gesture
Q. A person who breaks into houses in order to steel – Burglar.
Q. The study of the origin and history of word – Etymology
Q. One not concerned with right or wrong – Amoral
IMPORTANT ONE WORD SUBSTITUTION PART- 7
WHATSAPP GROUP LINK- CLICK HERE
Quiz Time
Here comes the time to check what you have learnt in the IMPORTANT ONE WORD SUBSTITUTION PART-3 module.
There are 10 Questions in this Quiz.
MARKING SCHEME – 1 marks for each CORRECT answer and no Negative Marking for an INCORRECT answer.
LET'S GO! ALL THE BEST
SOON