Welcome to our website "Science ka Mahakumbh". The IMPORTANT ONE WORD SUBSTITUTION PART-5 are as follows which will help you in various exams (like SSC, PET, CDS , State Exams and Other Exams)
In this module, you'll learn 30 One Word Substitution's in 3 three sets, each of a size 10.
BEWARE: You may face a quiz ahead, so read and understand the question thoroughly.
Let's start the journey.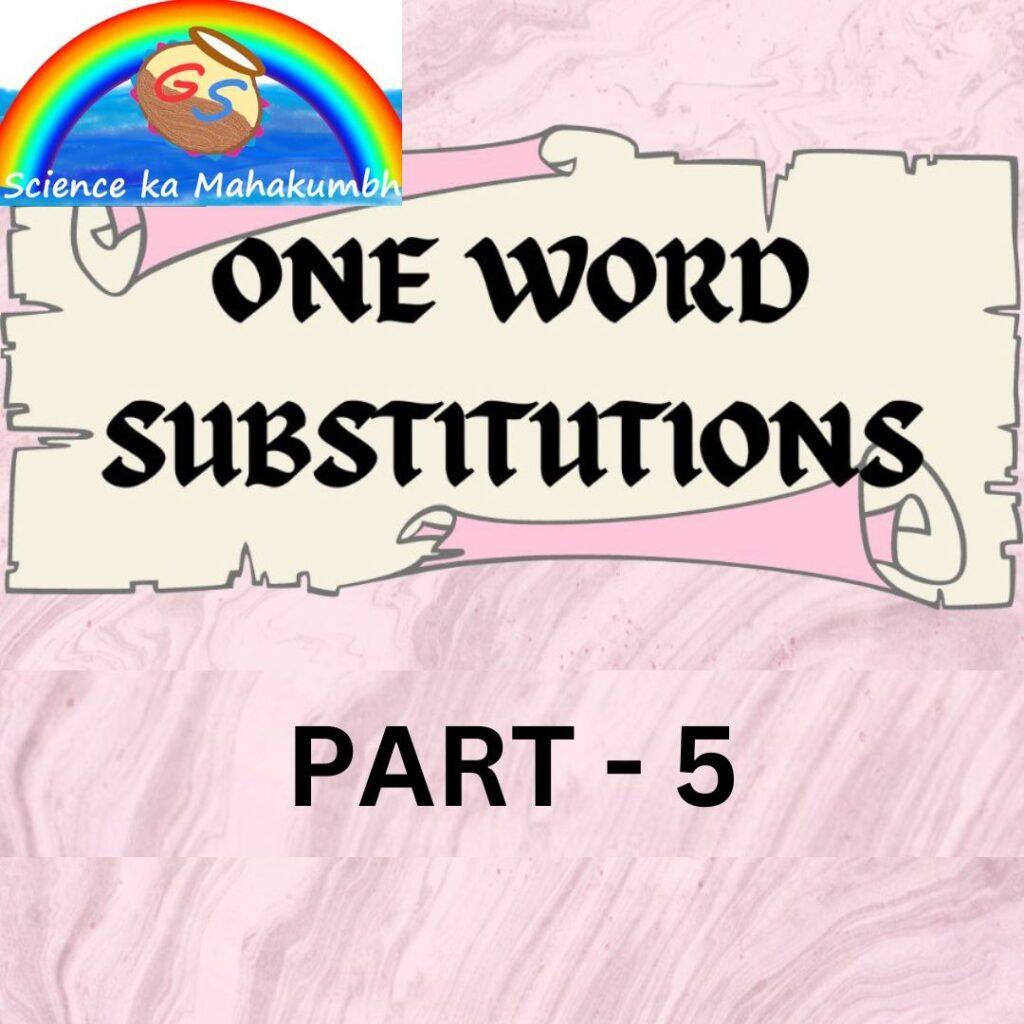 ONE WORD SUBSTITUTION 121-130
Q. Determined not to change your mind – Adamant
Q. Cause to be confused emotionally – Bemuse
Q. A person who eats human flesh – Cannibal
Q. Being of such surpassing excellence as to suggest inspiration by the gods – Divine
Q. A person who is excessively conceited or absorbed in themselves – Egotist
Q. Lasting a very short time – Fugacious
Q. Study dealing with heredity – Genetics
Q. Language that has been very much used – Hackneyed
Q. A person who has no money to pay off his debts – Insolvent
Q. Words uttered impiously about God – Blasphemy
ONE WORD SUBSTITUTION 131-140
Q. One who compiles a dictionary – Lexicographer
Q. A test in which cells from diseased organs are removed and tested – Biopsy
Q. A person who writes decoratively – Calligrapher
Q. Pertaining to cattle – Bovine
Q. To look at someone in an angry or threatening way – Glower
Q. A post with little work but high salary – Sinecure
Q. Something that causes death – Fatal
Q. Feeling inside you which tell you what is right and what wrong – Conscience
Q. Release of a prisoner from ja on certain terms and condition – Parole
Q. Loss of memory – Amnesia
ONE WORD SUBSTITUTION 141-150
Q. To struggle helplessly – Flounder
Q. To renounce a high position of authority or control – Abdicate
Q. Not to be moved by entreaty – Despotic
Q. An object or a portion serving as a sample – Specimen
Q. The practice of submitting a proposal to popular vote – Referendum
Q. Code of diplomatic etiquette and precedence – Protocol
Q. A round or cylindrical container used for storing things such as food, chemicals or rolls of film – Canister
Q. A place of permanent residence – Domicile
Q. That cannot be altered or withdrawn – Irrevocable
Q. Money paid to employees on retirement – Gratuity
IMPORTANT ONE WORD SUBSTITUTION PART- 6
WHATSAPP GROUP LINK- CLICK HERE
Quiz Time
Here comes the time to check what you have learnt in the IMPORTANT ONE WORD SUBSTITUTION PART-3 module.
There are 10 Questions in this Quiz.
MARKING SCHEME – 1 marks for each CORRECT answer and no Negative Marking for an INCORRECT answer.
LET'S GO! ALL THE BEST
SOON