Welcome to our website "Science ka Mahakumbh". The IMPORTANT ONE WORD SUBSTITUTION PART-3 are as follows which will help you in various exams (like SSC, PET, CDS , State Exams and Other Exams)
In this module, you'll learn 30 One Word Substitution's in 3 three sets, each of a size 10.
BEWARE: You may face a quiz ahead, so read and understand the question thoroughly.
Let's start the journey.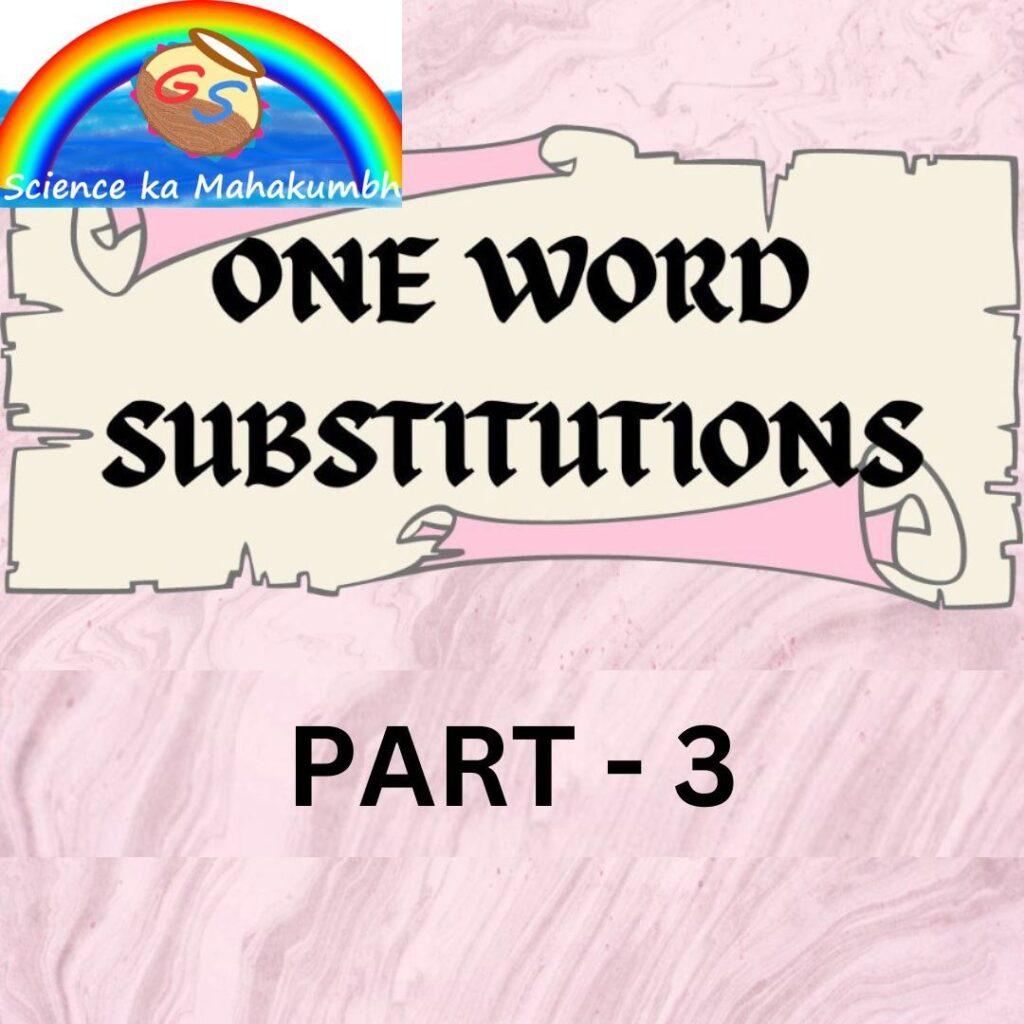 ONE WORD SUBSTITUTION 61-70
Q. Act of making things new like before – Renovate
Q. A place where astronomical observations are made – observatory
Q. Killing one's sister – sororicide
Q. A person who has lost protection of law – Outlaw
Q. Committing murder in revenge – Vendetta.
Q. An unimportant person -Nonentity
Q. Act of stealing in small quantities – pilferages
Q. The process by which plants and animal breathe – Respiration
Q. One who is converted from one religion to other – Proselyte
Q. The first public performance of musical or theatrical work or the first showing of film – Premiere
ONE WORD SUBSTITUTION 71-80
Q. Stick with a thick end used in mortar for pounding – Pestle
Q. A rough, violent, troublesome person – Tartar
Q. Solemn religious acts – Rites
Q. land covered by water on three sides – peninsula
Q. A statement in which you say the same thing twice in different words – Tautology
Q. Too willing to obey other people – Subservient
Q. Introductory past or lines to a discourse a play- Prologue
Q. Intentional damage to arrest production – sabotage
Q. Suitable or intended only for young person – Juvenile
Q. Someone who offers opposition – Adversary
ONE WORD SUBSTITUTION 81-90
Q. Having or denoting a low vocal or instrumental range – Bass
Q. The dead body of an animal – Carcass
Q. A long thick wall that is built to stop water flooding onto a low area of land – Dyke
Q. A person who listens secretly to what other people are saying – Eavesdropper
Q. Producing no result or effect – Futile
Q. To risk money on a card game, horse race, etc. – Gamble
Q. A place where Aeroplan's are kept – Hanger
Q. That never fails – Infallible
Q. A state of comatose torpor – Lethargy
Q. A written statement in which a group of people, especially a political party, explains their beliefs and says what they will do if they win an election – Manifesto
IMPORTANT ONE WORD SUBSTITUTION PART- 4
WHATSAPP GROUP LINK- CLICK HERE
Quiz Time
Here comes the time to check what you have learnt in the IMPORTANT ONE WORD SUBSTITUTION PART-3 module.
There are 10 Questions in this Quiz.
MARKING SCHEME – 1 marks for each CORRECT answer and no Negative Marking for an INCORRECT answer.
LET'S GO! ALL THE BEST
SOON