Welcome to our website "Science ka Mahakumbh". The IMPORTANT IDIOMS AND PHRASES PART-3 are as follows which will help you in various exams (like SSC, PET, CDS , State Exams and Other Exams)
In this module, you'll learn 30 IDIOMS AND PHRASES in 3 three sets, each of a size 10.
BEWARE: You may face a quiz ahead, so read and understand the question thoroughly.
Let's start the journey.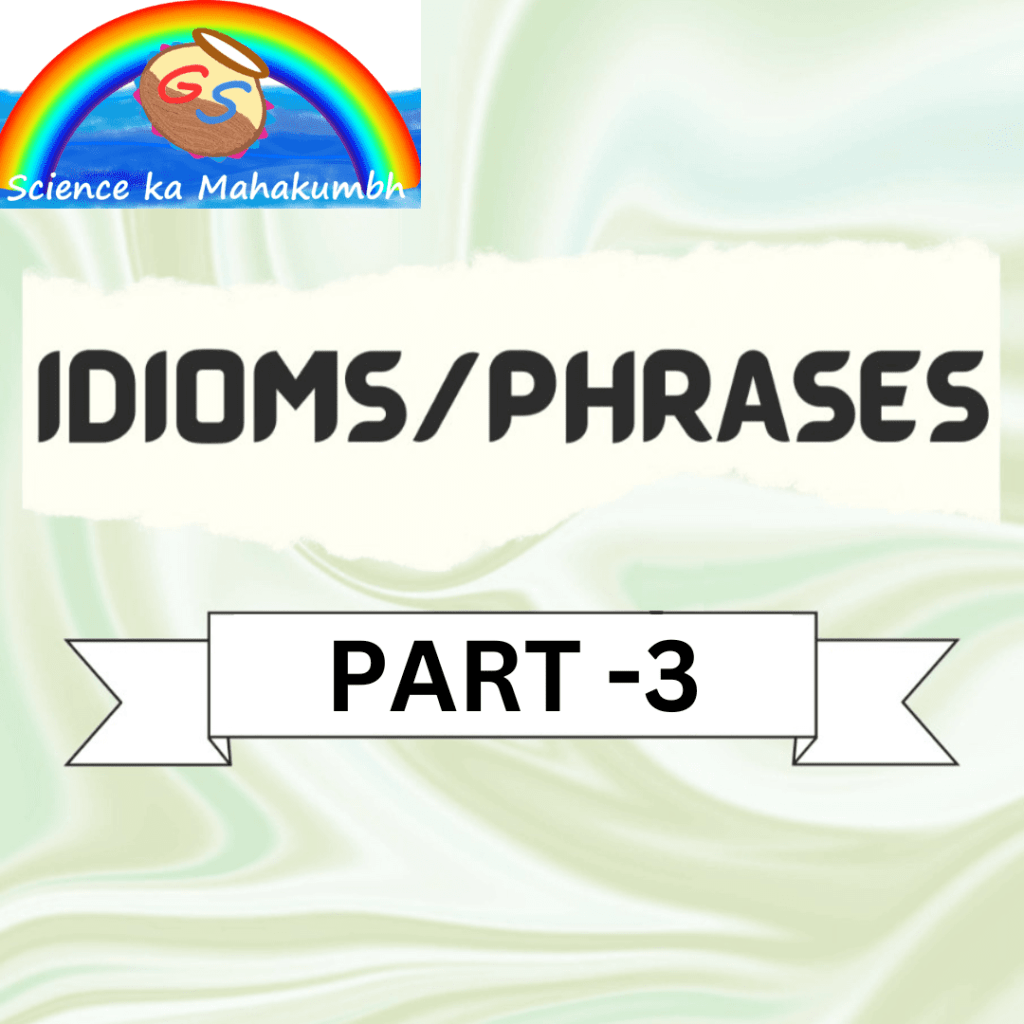 IDIOMS AND PHRASES 61-70
Q. Out at the elbows – Poor
Q. Out and out – Totally
Q. Put into action – To execute
Q. Put one's cards on the table – To be honest
Q. Rise like a phoenix – To become successful again
Q. Rises with the lark – Very early
Q. Red handed – Caught in the act of committing the crime
Q. Salad days – Adolescence
Q. Red-tape – Official procedures causing delay
Q. Set the record straight – Give a correct account
IDIOMS AND PHRASES 71-80
Q. Mend your ways – Improve one's behavior
Q. Measure up – Reach the level
Q. No hard and fast – Fixed
Q. No ifs and buts – No doubts
Q. Out of date – Old-fashioned
Q. Pull together – Work harmoniously
Q. Pull a long face – Look dejected
Q. Pull a fast one – Play a trick
Q. Set their face against – Opposed strongly
Q. Shake off – to get rid of
IDIOMS AND PHRASES 81-90
Q. At short notice – With little warning or time for preparation
Q. At sixes and sevens – In disorder or confusion
Q. At snail's pace – Do something very slowly
Q. To be dead meat – To be in serious trouble.
Q. Be all one to – Make no difference
Q. Be a dab hand at something – Skilled in a particular area.
Q. Fair weather friend – A friend that deserts in difficulties.
Q. Emerge out of thin air – Appear suddenly
Q. Cut no ice – Had no influence
Q. Brought up – Introduce for discussion
WHATSAPP GROUP LINK- CLICK HERE