हमारी वेबसाइट "Science ka Mahakumbh" में आपका स्वागत है। यह अर्थशास्त्र के महत्वपूर्ण प्रश्न का भाग – 3 हैं जिसमें 30 महत्वपूर्ण प्रश्न हिंदी के साथ-साथ अंग्रेजी भाषा में भी दिए गए हैं।
Welcome to our website "Science ka Mahakumbh". This is Part – 3 of Important Questions of ECONOMICS in which 30 important questions have been given in Hindi as well as in English language.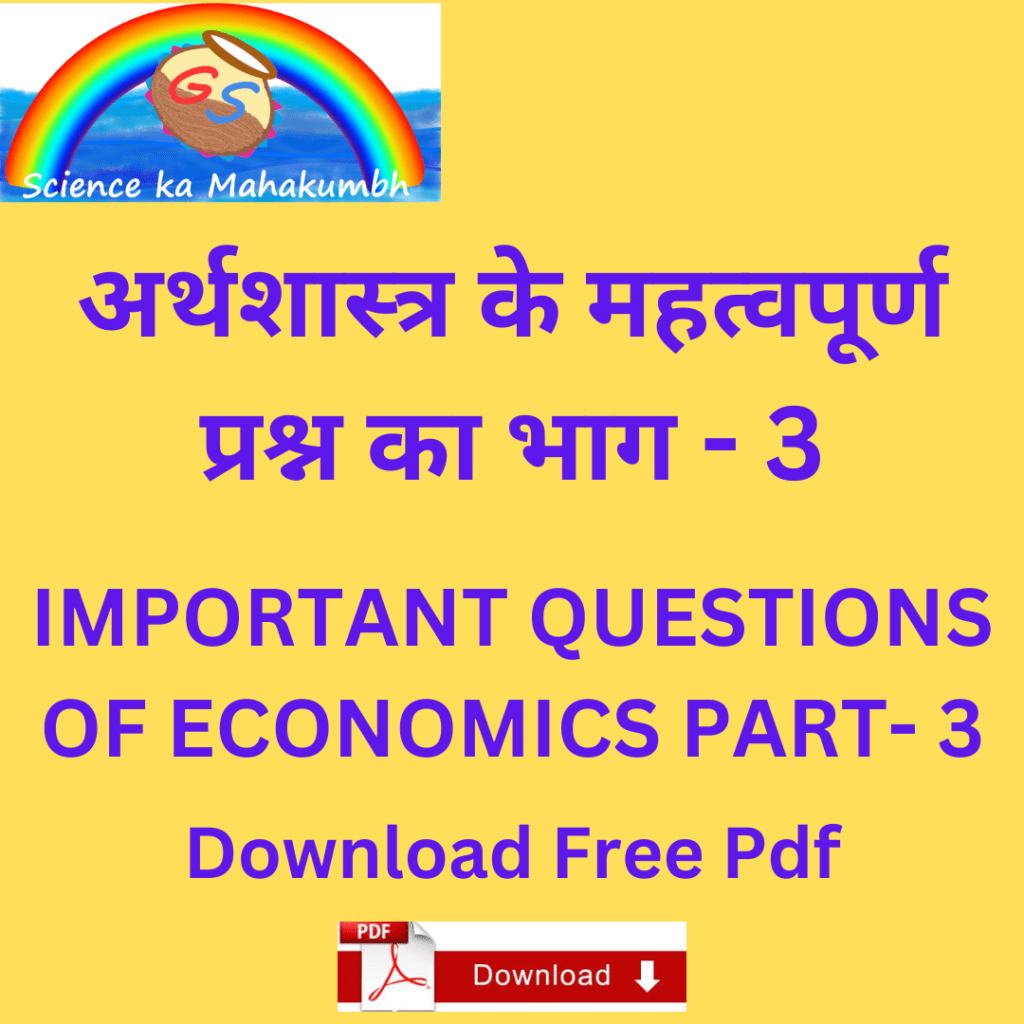 अर्थशास्त्र के महत्वपूर्ण प्रश्न भाग – 3 IMPORTANT QUESTIONS OF ECONOMICS PART – 3
Q. When was the State Bank of India nationalized – July 1, 1955
स्टेट बैंक आफ इंडिया का राष्ट्रीयकरण किया गया था – 1 जुलाई, 1955
Q. Assured cost means – the payments made for the productive resource.
सुनिश्चित लागत का अर्थ है– उत्पादक संसाधन के लिए की गई अदायगियाँ
Q. By whom was the concept of 'rolling plan' implemented in national planning – Janta Sarkar
राष्ट्रीय नियोजन में 'रोलिंग प्लान' की अवधारणा किसके द्वारा लागू की गयी थी – जनता सरकार
Q. Excise duty on a commodity is payable in respect of – In the context of production
किसी वस्तु पर उत्पाद शुल्क किसके सन्दर्भ में देय होता है – उत्पादन के सन्दर्भ में
Q. The magazine 'Yojana' is published by – the Ministry of Information and Broadcasting.
'योजना' पत्रिका का प्रकाशन होता है – सूचना एवं प्रसारण मंत्रालय द्वारा
Q. The 'Ecomark' mark on an item shows that from what point of view it is a friendly product – Environment
किसी वस्तु पर 'इकोमार्क' चिन्ह दर्शाता है कि यह किस दृष्टि से अनुकूल उत्पाद है – पर्यावरण
Q. According to the Planning Commission, how many calories in rural areas are considered below poverty line – 2400 calories
योजना आयोग के अनुसार ग्रामीण क्षेत्रों में कितनी कैलोरी पोषण प्राप्त न करने वालों को गरीबी रेखा से नीचे माना जाता है– 2400 कैलोरी
Q. The scientific calculation of national income in India is credited to- Prof. V.K. R. V. Rao
भारत में राष्ट्रीय आय की वैज्ञानिक गणना का श्रेय दिया जाता है– प्रो. वी. के. आर. वी. राव
Q. Economic survey in India is published officially by which ministry – Ministry of Finance
भारत में आर्थिक सर्वेक्षण सरकारी तौर पर मंत्रालय द्वारा प्रकाशित किया जाता है – वित्त मन्त्रालय
Q. Finally approves the five year plans of India – National Development Council
भारत की पंचवर्षीय योजनाओं का अन्तिम रूप से अनुमोदन करता है – राष्ट्रीय विकास परिषद्
Q. Who is credited with starting the economic planning system in India – Sir Visvesvaraya
भारत में आर्थिक नियोजन प्रणाली शुरू करने का श्रेय दिया जाता है – सर विश्वेश्वरैया
Q. The author of Planned Economy for India – Visvesvaraya
भारत के लिए नियोजित अर्थव्यवस्था के लेखक हैं – विश्वेश्वरैया
DOWNLOAD FREE PDF
Moreover, to read Part-4 of IMPORTANT QUESTIONS OF ECONOMICS, keep visiting our website.
Furthermore, you can visit other subject pages for more questions.