Welcome to our website "Science ka Mahakumbh". AN Article be published here on a daily basis with exclusive content. The questions posted here will be helpful in various upcoming competitive exams and daily life.
What is Chemistry? Let's know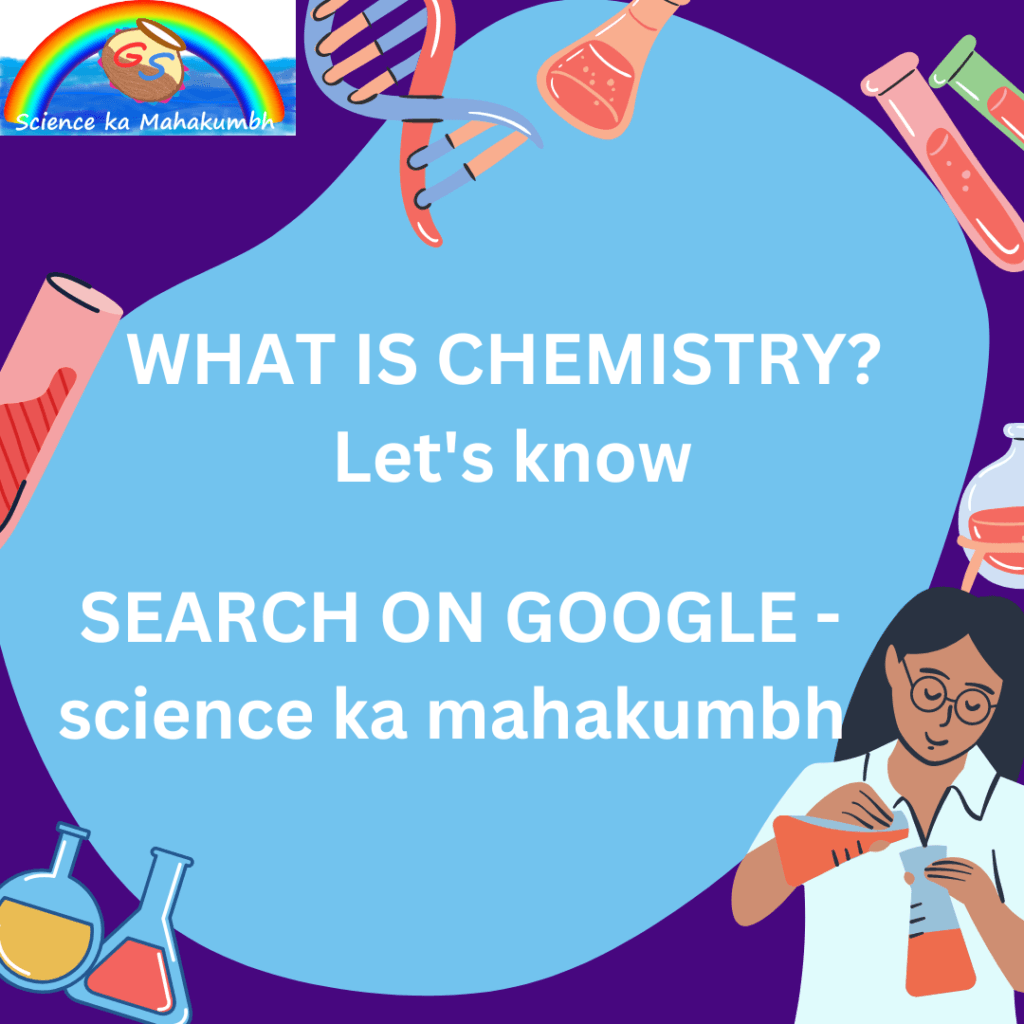 Chemistry as a magical cookbook that reveals the secrets behind everything around us. It's like understanding the recipe of the world and how different ingredients come together to create all the things we see, smell, taste, and touch.
In this captivating science of matter, we have building blocks called elements, similar to the letters of an alphabet. Each element has its unique properties, and just like letters combine to form words, elements combine to create compounds, which are like sentences in the language of chemistry.
Chemists are like skilled chefs who study these elements and compounds, learning how they interact with each other. They use their knowledge to invent new substances, solve problems, and improve our lives in countless ways.
To make sense of all the elements, chemists have created a handy cheat sheet called the periodic table. It's like an organized list of all the elements known to us, categorized based on their properties. This helps chemists understand their characteristics and behaviors easily.
Now, chemistry has different branches, each exploring a unique aspect of matter:
Organic Chemistry
This branch focuses on carbon-based compounds, the building blocks of life. It unravels the mysteries of how living things are made and how they interact with their surroundings. Organic chemistry plays a vital role in developing medicines, plastics, and other essential products.
Inorganic Chemistry
Unlike organic chemistry, this branch deals with elements and compounds that don't contain carbon. It helps us understand minerals, metals, and various materials used in construction and technology.
Physical Chemistry
This area looks into the physical properties of matter and the changes it goes through during chemical reactions. It involves concepts like energy, temperature, and the forces that drive chemical processes.
Analytical Chemistry
Picture analytical chemists as detectives. They use various techniques to identify and measure substances in a sample. This branch is crucial in areas such as food safety, environmental monitoring, and solving crimes.
Biochemistry
Biochemists explore the chemistry of living organisms. They study the molecules and reactions that make life possible, contributing to fields like medicine, genetics, and biotechnology.
Chemistry is all around us, shaping our everyday experiences. It's in the food we cook, the water we drink, and the air we breathe. When we strike a match, chemical reactions happen to produce a flame. Even inside our bodies, chemistry is at work, breaking down food to release energy and keeping us alive.
We can better comprehend and safeguard our environment thanks to chemistry. Environmental chemists research how human activities affect the environment and look for methods to lessen pollution and conserve resources.
Chemistry ultimately uncovers the mysteries of the world's building blocks like a fascinating puzzle. It links everything in our environment and aids in our understanding of the glories of the natural world. Chemistry is fundamental to improving the quality of our lives, from the food on our plates to the air we breathe.
आशा है आपको हमारी जानकारी पसंद आयी होगी। इसी प्रकार की जानकारी के लिए हमारी वेबसाइट पर प्रतिदिन देखे।
Furthermore, you can visit other subject pages for questions.
CBSE BOARD CLASS 10th SAMPLE PAPER – CLICK HERE
यूपी बोर्ड कक्षा 12 का पिछले वर्ष के पेपर का पूरा पीडीएफ डाउनलोड करे – CLICK HERE
यूपी बोर्ड कक्षा 10 का पिछले वर्ष के पेपर का पूरा पीडीएफ डाउनलोड करे – CLICK HERE
राजस्थान बोर्ड कक्षा 10 का पिछले वर्ष के पेपर का पूरा पीडीएफ डाउनलोड करे – CLICK HERE
बिहार बोर्ड कक्षा 10 का पिछले वर्ष के पेपर का पूरा पीडीएफ डाउनलोड करे – CLICK HERE
Union Budget 2023 : किसको क्या मिला आइये जानते हैं – PDF
What is Loan and definition of Loan ? – CLICK HERE
IPL 2023 PLAYER'S NAME – CLICK HERE
PAN CARD ONLINE FORM – CLICK HERE