Welcome to our website "Science ka Mahakumbh". A set of questions on TODAY CURRENT AFFAIRS will be published here on a daily basis with exclusive content. The questions posted here will be helpful in various upcoming competitive exams(like SSC, Railway(NTPC), Banking, All State Exams, UPSC, etc.).
हमारी वेबसाइट "Science ka Mahakumbh" में आपका स्वागत है। करेंट अफेयर्स के प्रश्नों का एक सेट यहां दैनिक आधार पर प्रकाशित किया जाएगा। यहां पोस्ट किए गए प्रश्न विभिन्न आगामी प्रतियोगी परीक्षाओं (जैसे एसएससी, रेलवे (एनटीपीसी), बैंकिंग, सभी राज्य परीक्षाओं, यूपीएससी, आदि) में सहायक होंगे।
The questions based on 09 OCTOBER 2023 Current Affairs In Hindi are as follows: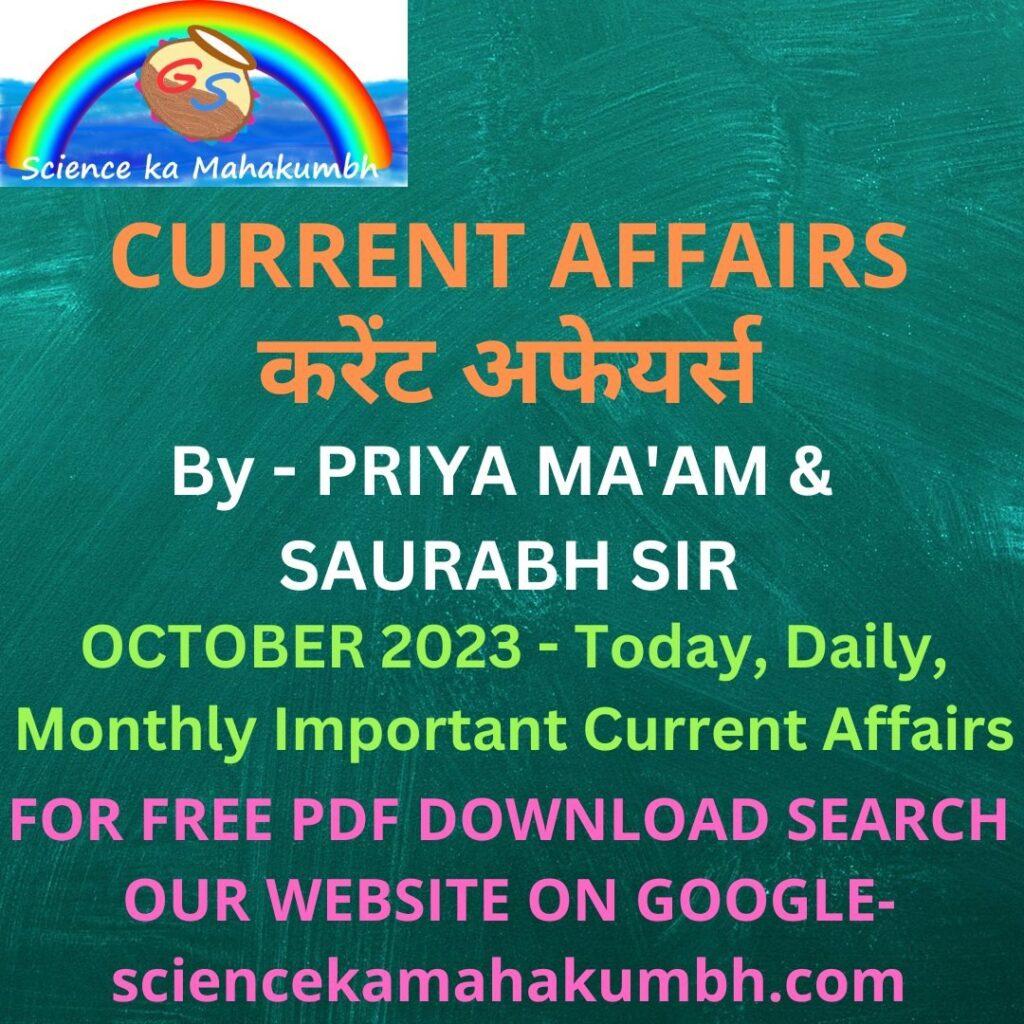 09 OCTOBER 2023 Current Affairs In Hindi
Q. Harmanpreet Kaur became the first captain in women's cricket to captain India in 100 T20 International matches.
महिला क्रिकेट में भारत के लिए 100 टी20 इंटरनेशनल मैचों में कप्तानी करने वाली पहली कप्तान बनी – हरमनप्रीत कौर
Q. Indian Air Force will purchase 156 Prachanda Light Combat Helicopters – from Hindustan Aeronautics Limited (HAL).
भारतीय वायु सेना 156 प्रचंड लाइट कॉम्बैट हेलीकॉप्टर खरीदेगी – हिंदुस्तान एयरोनॉटिक्स लिमिटेड (HAL) से
Q. With whom has India started a joint capacity building initiative – United Nations
भारत ने किसके साथ मिलकर संयुक्त क्षमता निर्माण पहल की शुरुआत की है – संयुक्त राष्ट्र
Q. In which sport did India win its first gold medal in Asian Games 2023 – 10 meter air rifle
भारत ने एशियन गेम्स 2023 में अपना पहला गोल्ड मेडल किस खेल में जीता – भारत ने 10 मीटर एयर राइफल
Q. Foreign exchange reserves in India decreased by $ 2.34 to reach – 590.7 billion dollars.
भारत में विदेशी मुद्रा भंडार 2.34 डॉलर घटकर पहुंचा – 590.7 अरब डॉलर
Q. PM Modi laid the foundation stone of FM relay station in Dahod.
PM मोदी ने FM रिले स्टेशन की आधारशिला रखी- दाहोद में
Q. Amit Shah presided over the 31st meeting of the Northern Regional Council in Amritsar.
अमृतसर में उत्तरी क्षेत्रीय परिषद की 31वीं बैठक की अध्यक्षता की – अमित शाह ने
Q. President of Intel India- Gokul Subramaniam
इंटेल इंडिया का अध्यक्ष- गोकुल सुब्रमण्यम
Q. Director of Bhabha Atomic Research Center – Vivek Bhasin
भाभा परमाणु अनुसंधान केंद्र का निदेशक – विवेक भसीन
Q. SAMPRITI-XI joint exercise started in – Umroi (Meghalaya)
SAMPRITI – XI संयुक्त अभ्यास शुरु हुआ- उमरोई(मेघालय) में
इस प्रश्नों की पीडीफ़ डाउनलोड करने के लिए नीचे क्लिक करें:
राजस्थान बोर्ड कक्षा 10 का पिछले वर्ष के पेपर का पूरा पीडीएफ डाउनलोड करे – CLICK HERE
बिहार बोर्ड कक्षा 10 का पिछले वर्ष के पेपर का पूरा पीडीएफ डाउनलोड करे – CLICK HERE
Union Budget 2023 : किसको क्या मिला आइये जानते हैं – PDF
LIST OF ALL QUIZZES – CLICK HERE
IMPORTANT STATIC GK FOR ALL EXAMS – CLICK HERE
IMPORTANT TEST SERIES FOR ALL EXAMS – CLICK HERE
INTERESTING FACTS FOR ALL EXAMS – CLICK HERE
CURRENT AFFAIRS – CLICK HERE
BRAIN TEASER – CLICK HERE
FREE SUBJECT WISE NOTES FOR ALL EXAMS – CLICK HERE
What is Loan and definition of Loan ? – CLICK HERE
IPL 2023 PLAYER'S NAME – CLICK HERE
PAN CARD ONLINE FORM – CLICK HERE